About New Life Christian Academy's Programs
New Life Christian Academy is based in Hillsville, VA. New Life has both an onsite and a correspondence program. It was established in 1988. For information about both programs click below to go to the school's official website.
New Life also has a program in which we help you to be able to establish a Christian Academy for your church or ministry. Go to the website below for more information.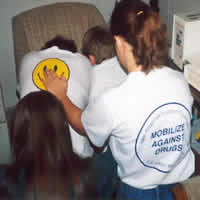 Click below for main websites for these programs.
New Life's School Extension Program
New Life helps churches to start their own school. We help you to organize your school. We offer support based on our wisdom gained through over 40 years of experience, 28 years in Christian education. Your school will function as an extension of New Life Christian Schools and Colleges International and operate under our accreditation.
For more information please call us.
It is time for the church to rise up and get real about the public school system and the damage it is doing to your children.
It is time for the church to educate their children as God told us to in His Word.
Our phone number is 276-730-0706. Our office hours are from 10:00 to 6:00 EST.

Our fax number is 276-730-0705.

Our email address is school@nlcm.net.

Our address is: PO Box 1268, Hillsville, VA 24343

Looking forward to hearing from you.